Information Session on IEEE PES Day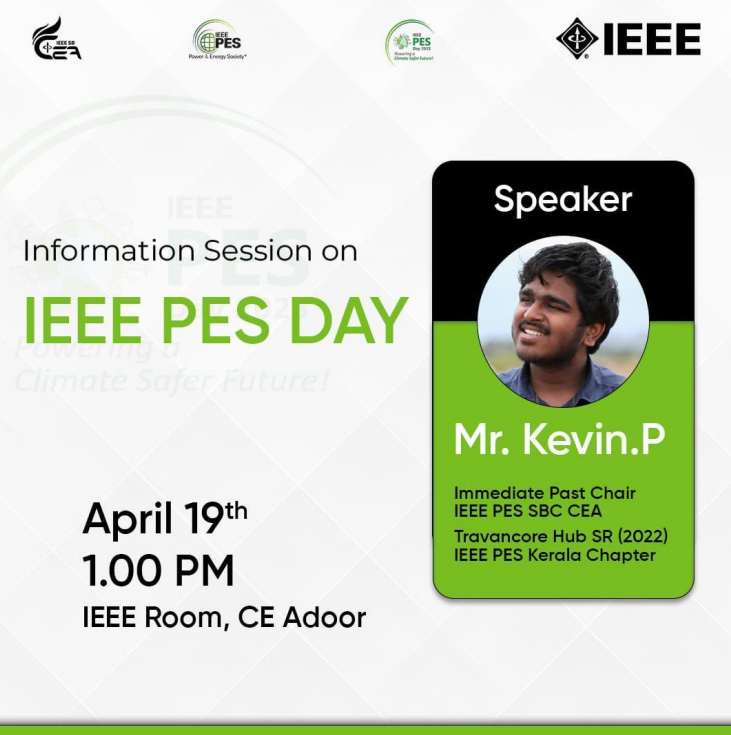 On the 19th April 2023, IEEE SB CEA with IEEE PES SBC CEA conducted an Information Session about PES Day, 2023 at College of Engineering, Adoor. The theme of the 6th IEEE PES Day was "Powering a Climate Safer Future". The session was taken by Mr. Kevin P, previous year IEEE PES chairman. The session was successfully conducted with the active participation of PES volunteers, IEEE volunteers and also non IEEE students.
The theme of the 6th IEEE PES Day 2023 is "Powering a Climate Safer Future,". The session had started with the welcome address given by Ms. Swathy Suresh, Vice-chair, IEEE PES SBC CEA. Then the session had been taken over by our speaker Mr. Kevin P.
He started the session by describing PES day and its importance. Then he moved into the theme of the 6th IEEE PES day, Powering a Climate Safer Future. He made it clear for the listeners. Next, he gave a brief description of the events and activities conducted last year in our college as part of the PES Day celebration. He also talked about how it is celebrated across the world. He was able to provide a good idea about PES Day and its impact on the listeners.
The information session was concluded by a vote of thanks given by Jerrin Mathew George, Chairman IEEE PES SBC CEA. He thanked Mr. Kevin P for his valuable information session.
The poster-making session which was planned as a part of the PES day celebration was conducted next. It was poster making session based on the PES Day theme. Many students including IEEE and non-IEEE members were taken part in this poster-making session. Each one of the students contributed their maximum in this session. Many beautiful posters were made by the students based on the PES Day theme. PES volunteers and other execome volunteers were there for providing the necessary help for the participants.
At last, a photo session was also done including all the participants and volunteers who had actively taken part in the event.
Number of participants: 30