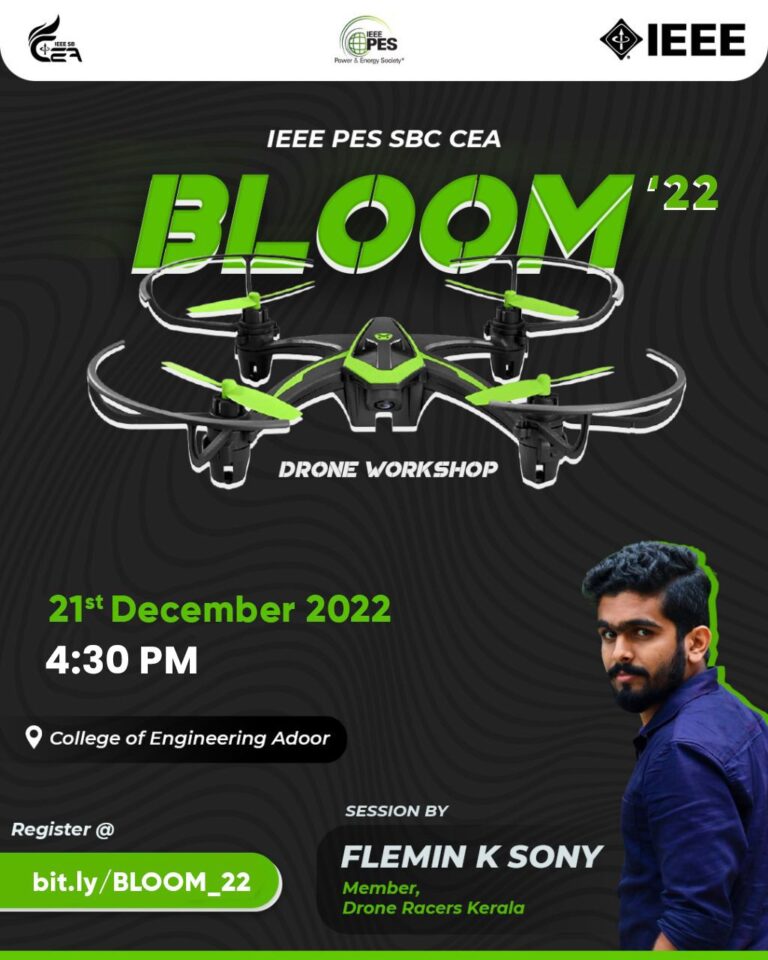 BLOOM was an interactive seminar session based on Drones. The target behind the event was in giving a good overview of the working of a drone as well its underlying principles while evoking an interest in Engineering in the students.
The speaker of the event was Mr. Flemin K Sony, Vice-Chair of IEEE RAS SBC CEA. Mr. Flemin is an expert in flying drones as well as in building them. He has in-depth knowledge about drones, hence he was the perfect speaker for the event. The various components of a drone were shown to the participants and their working was also explained in great detail. A live demonstration of the flying of a drone was also conducted.
Miss Irene Alsa George, Secretary IEEE SB CEA gave the welcome speech for the event. Mr. Flemin K Sony first introduced himself and talked about some of his achievements in life relating to drones. He was able to build a good rapport with the students and he also motivated them to learn more about engineering principles.
He first gave an overview of drones and explained the different types of drones as well as their uses. Then he went on to explain the structure of an aerofoil and the aerodynamics related to it. He explained how a drone flies and the various mechanisms involved with it, through an animated video.
He explained the orientation of the propellers of a drone. He explained the main components of a drone: Frame, Propeller, Brushless Motor, Electronic speed controller, Flight controller, Transmitter and receiver and Lithium-Polymer battery. While teaching the students he gave some of the parts of a drone to all the students so they could get a better understanding. He showed a schematic diagram of a drone and explained how all the components work together to make the drone fly.
At the end of the event the participants actively participated in the Q&A session and the speaker answered all the questions which were asked. As a result of the event, the students were equipped with the knowledge of assembling and using a drone.
A live demonstration of a drone was conducted by Mr. Flemin at the end. The event was a great success and got great positive feedback from the students who attended the session. Mr. Flemin was able to motivate the students to follow their interest in engineering as well.
Number of Participants: 30