WOW 2.0 : Tech talks #3: First Lady Engineer of Bharat Petroleum- Breaking Myths and Stereotypes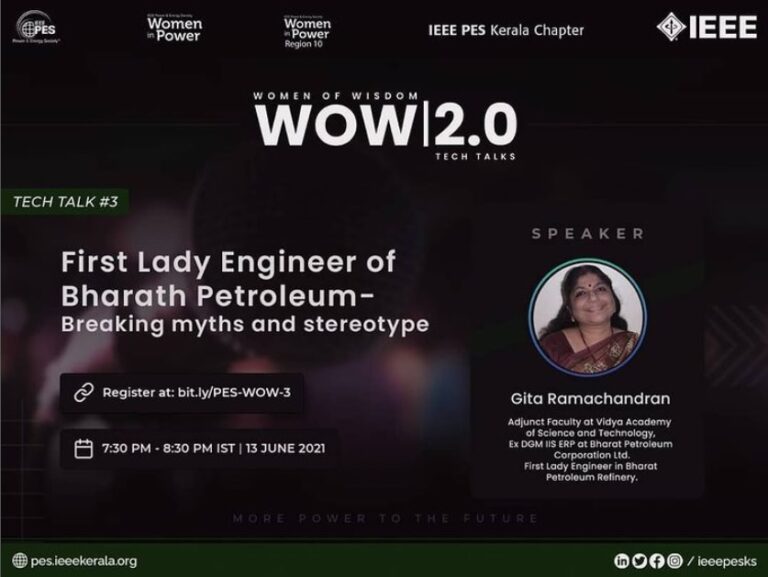 IEEE Power and Energy Society (PES) Kerala Chapter, in conjunction with IEEE PES Women in Power (WiP) community, organized Women of Wisdom, WOW 2.0, a tech talk series. The third session was held on 13th June 2021 from 7:30 pm to 8:30 pm (IST) online using the Google Meet platform. The speaker for the session was Mrs. Gita Ramachandran, Adjunct Faculty at vidya academy of science and technology, Ex-DGM IIS at Bharat Petroleum Corporation Ltd. She shared her experiences as the first Lady Engineer of Bharath Petroleum.
The session was graced with the presence of Prof. Nafeesa Koyisseri (Women in Power Coordinator, IEEE PES Kerala Chapter) and Er. Saran KS (Student Activities Coordinator, IEEE PES Kerala Chapter). 
Mrs. Gita Ramachandran started the session with a brief introduction about herself and her academic life. She spoke about the initial years of her career as the first lady engineer, the gender-based discrimination at her workplace, and how she dealt with them. Then, she  further explained how she advanced in her career and broke the myths and stereotypes about a lady engineer at that time. She also emphasized the importance of being a constant learner and can achieve any goal in life with patience and hard work. The session had around 50 participants, and everyone was very enthusiastic and asked their doubts. The session concluded with a vote of thanks by Ms. Devika Muraleedharan (WiP Student Representative, IEEE PES Kerala Chapter).